"New Life It Up"

Season 1, Episode 1

Information
Air Date

February 14, 2014

Prod. Code

101

Writer(s)

Cyrus Uy

Director

Cyrus Uy

Episode Guide
Previous

"None"

Next
New Life It Up is the first episode of Season 1 also the series premiere. It premiered on February 14, 2014.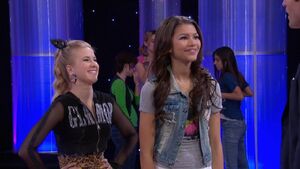 After graduation, CeCe leaves Chicago and goes to Paris to start her dancing career but she leaves Rocky behind. Sadly, Shake It Up, Chicago gets cancelled, leaving Rocky panicking. So after CeCe left along with Shake It Up, Chicago being cancelled, Tinka and Rocky become BFFs and they both move to Texas to start a new life (along with Ty, Deuce, Dina, Flynn, Mark, etc...). They meet some new friends and Rocky, Tinka, Ty and Mark audition for a new show called "Dance It Up" and they all attend a new school. They continue to deal with friendships, drama, dancing, romance and more. CeCe continues to video-chat with Rocky and they are still best friends no matter what. Rocky drops her record deal due to moving away but maybe in the later seasons she will get a record deal again.
Main Cast
Edit
Recurring
Edit
Crack It Up by R5
New Life by Zendaya and Caroline Sunshine
On its debut, it gathered around 7.5 million viewers. It is the highest debut out of ALL Disney Channel Original Series and a world record for any series.